July 2023 | Member of the Month: Agnès @i.am.making.a.mess
Hi! I am a software developer with a Masters in Computer Science, I do some acting and all sorts of crafts on my spare time.
I am originally from a little town in Catalonia, Spain, but I live with my Finnish husband in Finland, currently the happiest country in the world, a wonderful country full of greenery and beautiful seasons.
My favorite thing to do is any sort of art in the family cottage next to the lake with a cup of coffee or a beer while trying not to dip my brushes in the wrong glass (we've all been there, right?). I love to crochet, specially cardigans, but I also do other yarny crafts. As for art, I enjoy watercolor and pastel mediums the most but I also dive in acrylics and mixed media from time to time.
I never been an artsy kid but one day several years ago I bought an art supplies surprise box and it came with pen brushes and I did not know what to do with them so I googled and discovered brush pen calligraphy and I went into a rabbit hole where I discovered watercolors and started to follow artist and buying courses, mostly loose style, but nothing really clicked with me until I found Emma's Paint Wild Academy in 2021 and loved the style and haven't looked back.
When I started I bought the cheapest stuff but soon realized that the materials were holding me back as they were not behaving like what I could see in tutorials so I soon upgraded to middle range supplies but my art made a big jump when I tried 100% cotton paper. So if you ever get frustrated with watercolor, is probably the paper.
I looove how watercolor flows where the water is. There is some peacefulness in it that I can't describe. I like painting wildlife because of the variety of subject you can find, no specific animal in mind but I enjoy most with water animals so I can add splatters around! :D plus, there's rarely a brown animal underwater and I hate mixing browns haha I usually work in A5 size as I find it a doable size to do in one sitting and not get too lost in the details.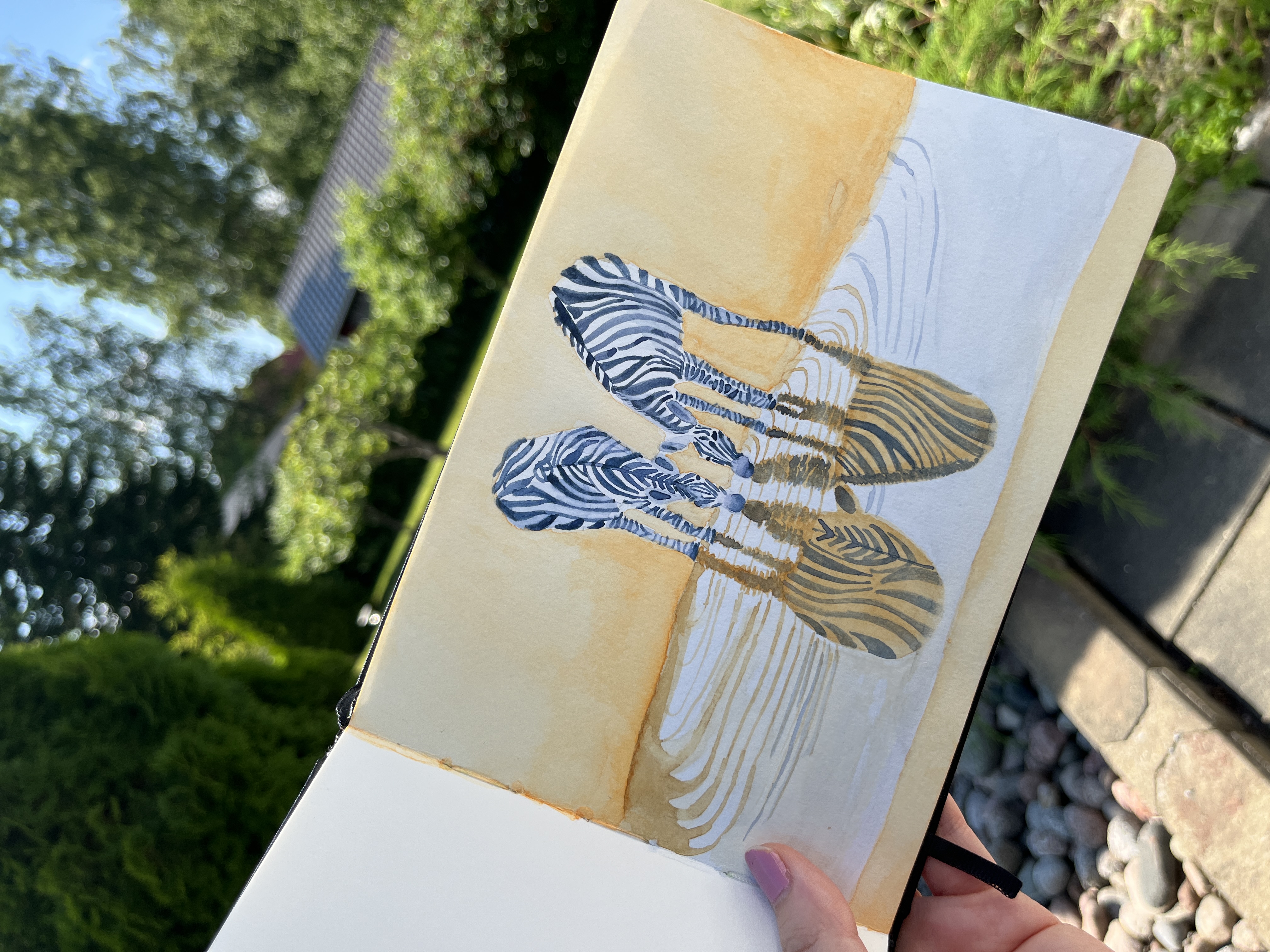 At Paint Wild we recently did two zebras and their reflections on water. To me the reflections on the water are a difficult subject to put into paper, both in watercolor and pastels. I feel like when we look at a reflection, it just makes sense in our brain but when drawing/painting realistic you gotta see every curve and line which might not make total sense but it does when you see it as a whole and that happened with the two zebras, I disliked it while I was doing it but then it came out well. I learned a lot with that painting.
Paint Wild has helped me to actually See a subject. It's values, shadows and highlights, which are what gives depth to a painting. I did a fox before I started the Paint Wild and it just looks horrible haha I mean, you can tell is some kind of orange dog or fox but it is flat. I haven't replicated it yet but I am pretty sure it would look way better now. I like how every week we have something new to work on, being a new animal or a study of some sort. It makes me consistent in my practice, which leads to improvement, and keeps me accountable. My favorite part are the live sessions which happens twice a month. It makes me to actually think about a subject/theme and not just follow along. Also, is nice to be "together" doing something at the same time and feel closer to other like minded people.
I would love to do art as a part time job by working on commissions. Specially ones where the request is not something specific neither a technique nor a medium, but rather a topic and color scheme and I would come up with what to paint and mix mediums. That would be my dream but I am far from it at the moment. One stepping stone would be commissioned to do animal portraits on bigger sizes, let's say a dog in A4.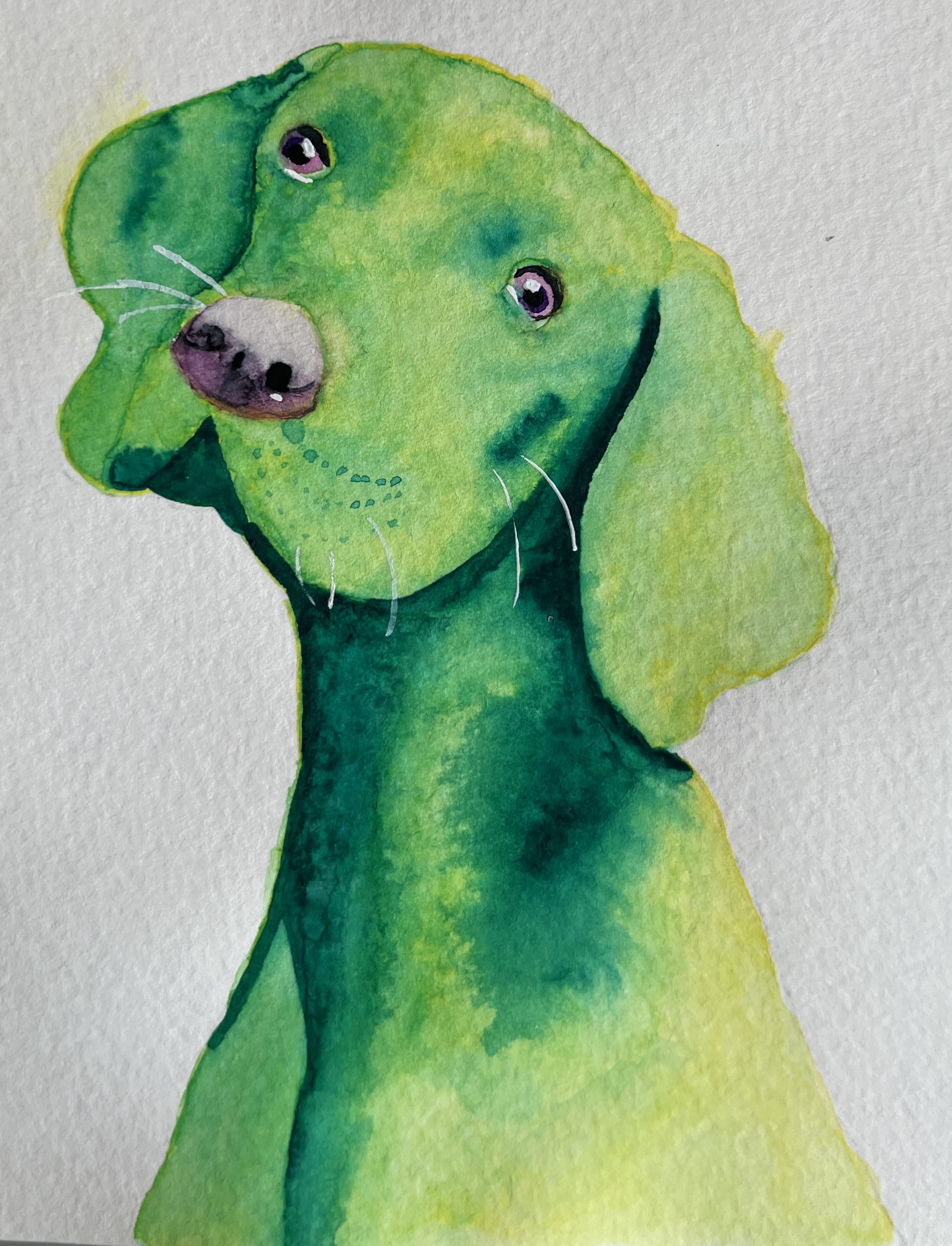 If you are curious to try watercolors, get yourself a good 100% cotton paper (I like Saunders Waterford Cold pressed (NOT)), 3 brushes in size 3/0, 4 and 8, and the 3 primaries Winsor & Newton professional series paint tubes, that's all you need. It will last you for long and won't have to go through the challenges and frustration that cheap supplies bring and then just paint what inspires you. You got a garden? Great, paint a plant. You got fruits? Paint fruits! Of course you will need some color theory first but Emma got you covered with everything that you need to know and it is free, without ads and no need of endless scrolling.